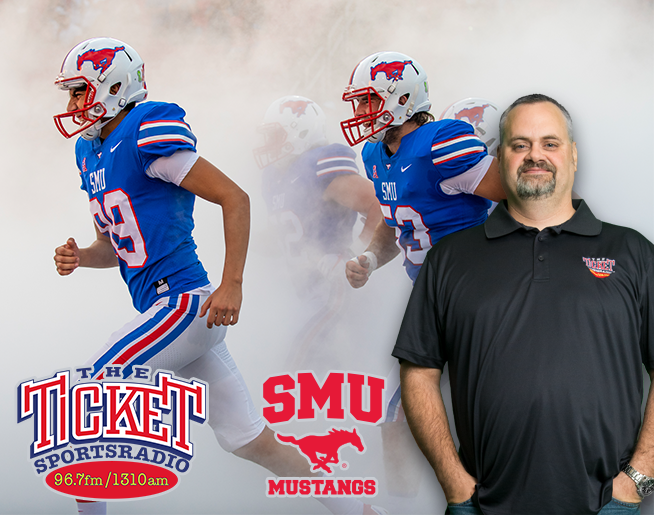 Once again this season, every SMU Mustangs football game is on the Ticket. Listen on 96.7 FM, old school on 1310 AM, or stream the games at The Ticket.com.    Sonny Dykes has a new group of Ponies poised to tackle the American Athletic Conference.
Voice of the Mustangs Rich Phillips has the call of every game along with his Pony-Partner Scott Garner.
Join us for the SMU Pregame Show 30 minutes prior to kickoff of every game.
---

Date           Time        At        Opponent                                                                    

Sep 4 (Sat)    6 p.m.      Home      Abilene Christian                                                 

Sep 11 (Sat)   6 p.m.      Home      North Texas                                                      

Sep 18 (Sat)   2:30 p.m.   Away      Louisiana Tech                                                                               

Sep 25 (Sat)   TBD         Away      TCU                                                                                   

Oct 2 (Sat)    TBD         Home      South Florida                                                    

Oct 9 (Sat)    2:30 p.m.   Away      Navy                                                                                     

Oct 21 (Thu)   6:30 p.m.   Home      Tulane                                                           

Oct 30 (Sat)   TBD         Away      Houston                                                                      

Nov 6 (Sat)    TBD         Away      Memphis                                                                                 

Nov 13 (Sat)   TBD         Home      UCF                                                             

Nov 20 (Sat)   TBD         Away      Cincinnati                                                                            

Nov 26 (Fri)   TBD         Home      Tulsa                                                            

Dec 4 (Sat)    TBD         Neutral   American Athletic Conference Championship