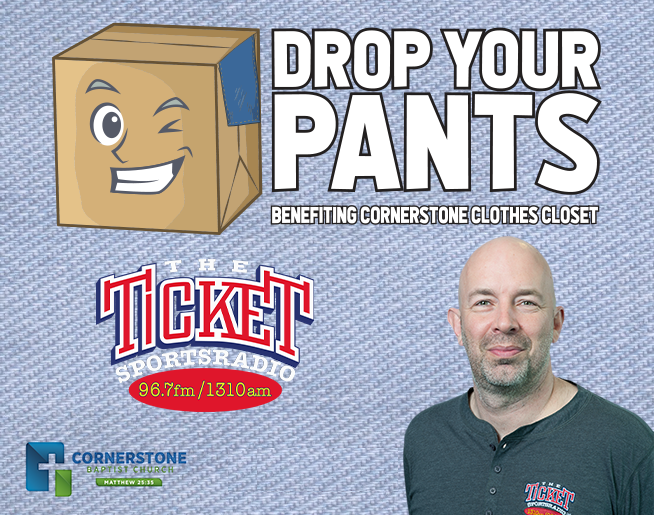 The Ticket's very own Bob Sturm invites you to be part of the 10th annual Drop Your Pants! Clothing Drive! And this year there are TWO WAYS for P1s to help!
Now through, October 10th, we are asking all P1 we're asking all P1's to help support the Cornerstone Clothes Closet Fund to help clothe the homeless with a monetary donation.
Over the past three years, P1s helped us raise over $300,000, allowing Cornerstone Clothes Closet to help thousands of homeless in our area through the years.
The need for clothing at the clothes closet has not diminished, therefore this fundraiser is more important than ever. In addition to purchasing clothing items, the funds pay for repairs, utility bills, cleaning supplies & hygiene items.
---
---
OR
DROP YOUR PANTS
On October 10th, make your plans to 'Drop Your Pants' at our clothing drive at the plaza outside the American Airlines Center from 12:00pm – 6:00pm. You can also SIGN UP to help with the collection at the clothing drive. from 10:45am – 7:00pm at the link below.
---
This year we are back to collecting the following gently used items:
Mens Jeans
Cargo, golf and casual zip-up shorts
Long or short sleeve T-shirts, golf shirts and sweatshirts
Winter coats
Blankets
Backpacks
We only accept new socks & new underwear.
Ladies gently used coats
Regular & sports bras
Note: We do not want suits, slacks, long sleeve dress shirts, ladies' clothes or kids' clothes. We serve the homeless so think of urban camping-type clothing.
All proceeds will be used to purchase clothing items from wholesale vendors rather than collecting used clothing. Remember, every bit of your generosity makes a difference.