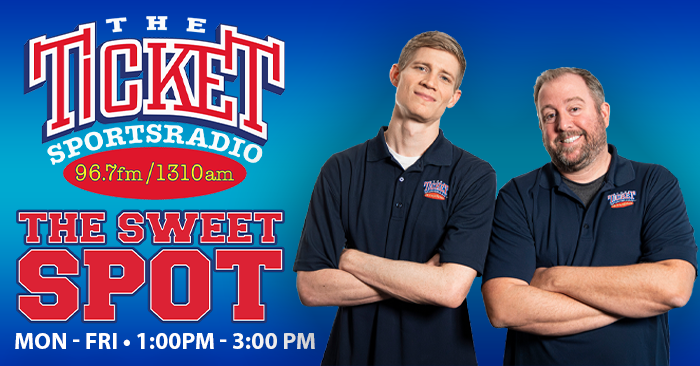 About Sean Bass
Former Musers Ticket Ticker Anchor and Norm & D Invasion Producer, as well as the unofficial champion BBQ pit master of The Ticket, Sean Bass, makes a much-celebrated move to hosting middays alongside David Mino from 1 pm – 3 pm every Monday through Friday! ​
The Mesquite native began working at The Ticket as a young nineteen-year-old in 2001. In addition to his hosting role with Mino, Sean also heads-up Diamond Talk, the Rangers post-game show, as well as the Cowboys pre-game show during the season.
He also did play-by-play during the 2018-19 summer for the Frisco Roughriders Double-A baseball team and also hosted the Mavs postgame show on the Ticket from 2010-2012.​
Sean is a graduate of North Texas. He's married to Jennifer, who marched in the TCU Band and has been an educator since 2006. He also has two daughters, Lily & Zoey, both theatre kids, who get their musical talents from their mom. Sean and his family reside in Mansfield. ​
About David Mino
David Mino, or Cinco de Mino as he is known around The Ticket, hosts middays with Sean Bass from 1 pm to 3 pm.
Prior to that, he was the producer of The Hardline. He also hosted Work in Progress with Justin Montemayor every Sunday from 9:00 am-12:00 pm where David's knowledge of sports and pop culture was on display.​
Mino grew up in Hickory Creek, Texas, where he starred on the Lake Dallas High School Falcons football. David attended Ottawa University in Kansas, where he played wide receiver on the Braves football team while honing his skills as a broadcaster. David Mino is the second most famous person to attend Ottawa U.
The most famous person to attend Ottawa U? Who is Alex Trebek?​
After graduating from college, David returned to Dallas, Texas in 2011 and began working as an intern for Radio Hall of Famer Norm Hitzges. Shortly after, Mino worked on The Ticket's Promo Crew before a promotion to producer, reporter, and board operator in 2012.​
In 2014, he became the full-time Board Operator for BaD Radio and The Hardline, and then he was promoted to Producer of The Hardline in June 2022.​