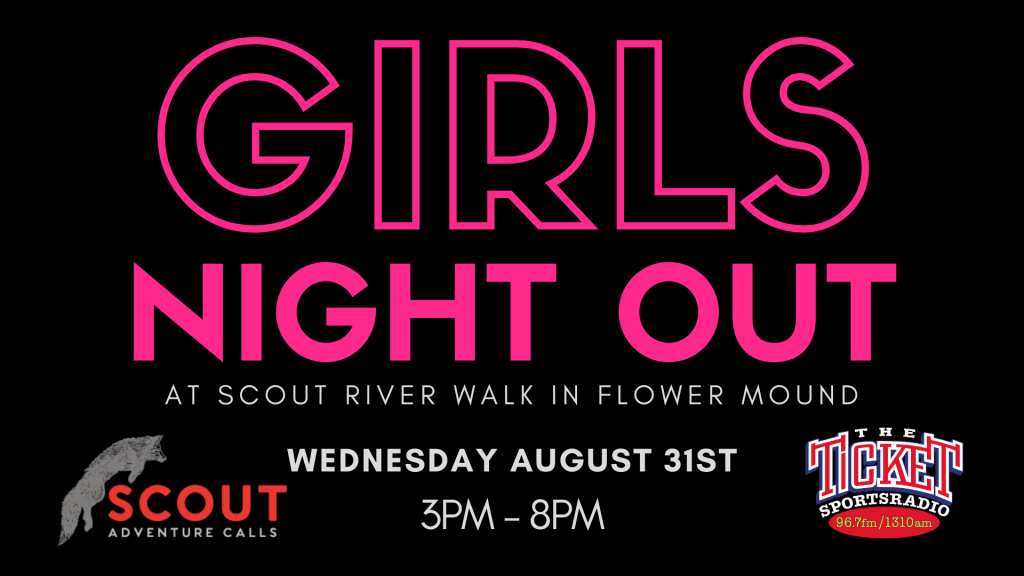 Get ready for the return of the GNO! Girls Night Out is coming to Scout at the River Walk in Flower Mound Wednesday, August 31st.
Come check out the BRAND NEW Scout at the River Walk and hang out with all your favorite Ticket Hosts get together with the P1s for a night full of good times.
And for the Ladies, it is your night, and you'll have your chance to win concert tickets, access to experiences, gift cards, and more!
Girls Night Out Prizes
*Amazon Echo
*Amazon Fire Tablets
*Amazon Halo Fitness Trackers
*Eataly Wine Tasting Tickets
*$100 Gift Card to Hiatus Spa
*$50 Starbucks Gift Cards
*$50 Gift Cards to Sephora
*Tickets to Date Night Pasta Class at Eataly
*Tickets to the Grapevine Wine Tasting Dinner Tour
*Premium Rangers Tickets
*Major concert tickets and much more!
SCOUT at the River Walk in Flower Mound
Scout at the River Walk is Flower Mound's new big-screen destination for sports, food & fun, featuring hand-crafted cocktails and a chef-inspired menu. Look for the Ticket signs and follow them to Scout