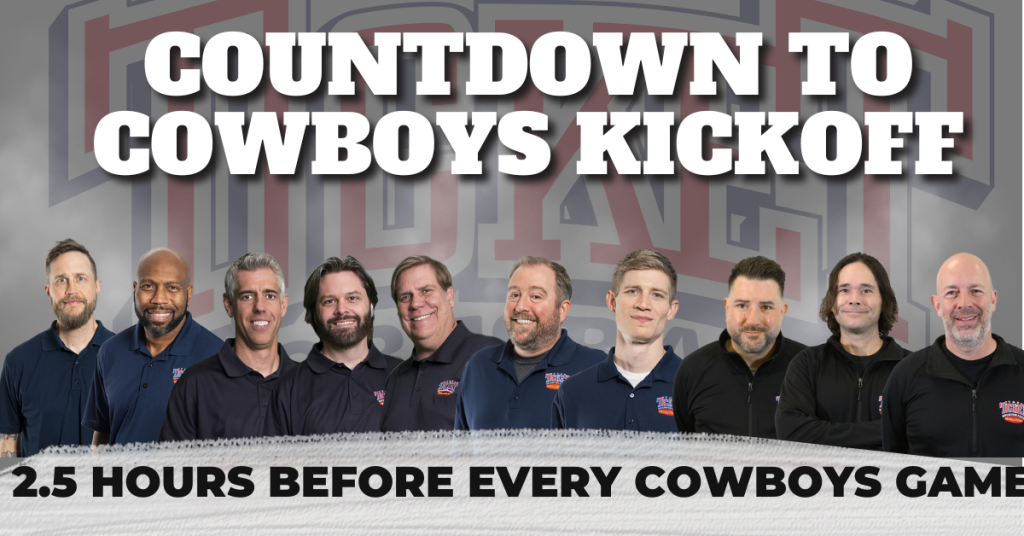 The Ticket's Cowboys Countdown to Kickoff begins 2 ½ hours before every Cowboys game on game day. Sean Bass, David Newbury and David Moore are joined by the Ticket Team for the latest hot Cowboys opinions and in depth analysis on the game.
Immediately after the game; turn off the TV and turn on the Ticket for our Cowboys Postgame Show! Donovan Lewis, Matt McClearin and their Ticket Teammates get you through two straight hours of instant knee jerk reactions, overreactions and hot Cowboys opinions on what happened and what didn't happen in the game!
Watch Halftime HSOs on Facebook, Twitch and YouTube
Returning this Season: Streaming Hot Halftime HSOs! When its halftime, grab your phone for immediate reaction from the Ticket guys to what you just saw in the first half! Streamed piping hot to your phone via Facebook Live; Twitch and YouTube.
2023 Cowboys Schedule
Week 1: at New York Giants (Sun. 9/10, 7:20 p.m.)
Week 2: New York Jets (Sun. 9/17, 3:25 p.m.)
Week 3: at Arizona Cardinals (Sun. 9/24, 3:25 p.m.)
Week 4: New England Patriots (Sun. 10/1, 3:25 p.m.)
Week 5: at San Francisco 49ers (Sun. 10/8, 7:20 p.m.)
Week 6: at Los Angeles Chargers (Mon. 10/16, 7:15 p.m.)
Week 7: BYE
Week 8: Los Angeles Rams (Sun. 10/29, 12:00 p.m.)
Week 9: at Philadelphia Eagles (Sun. 11/5, 3:25 p.m.)
Week 10: New York Giants (Sun. 11/12, 3:25 p.m.)
Week 11: at Carolina Panthers (Sun. 11/19, 12:00 p.m.)
Week 12: Washington Commanders (Thurs. 11/23, 3:30 p.m.)
Week 13: Seattle Seahawks (Thurs. 11/30, 7:15 p.m.)
Week 14: Philadelphia Eagles (Sun. 12/10, 7:20 p.m.)
Week 15: at Buffalo Bills (Sun. 12/17, 3:25 p.m.)
Week 16: at Miami Dolphins (Sun. 12/24, 3:25 p.m.)
Week 17: Detroit Lions (Sat. 12/30, 7:15 p.m.)
Week 18: at Washington Commanders (TBD)
The Ticket's Cowboys Pre and Postgame Coverage is Brought to You By