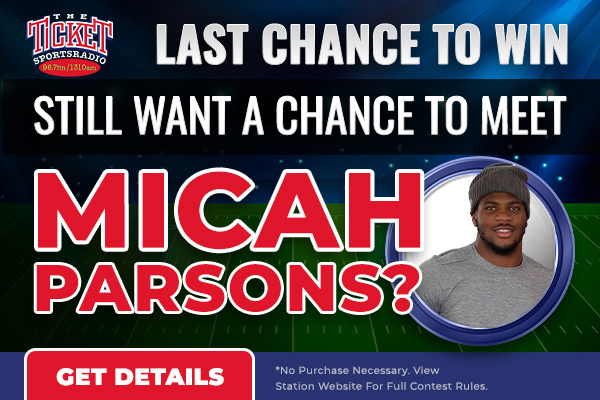 This is your last chance to meet Micah Parsons at Mullen & Mullen Injury Law Firm Ticketstock. Friday, February 17th, get to the Plano event center early and register for your chance to win the final Meet & Greet Pass, AND an autographed football from Micah Parsons.

REGISTRATION ENDS AT 5:15. DRAWING WILL BE HELD AT 5:25
HOW TO WIN
Be Present at The Mullen & Mullen Injury Law Firm Ticketstock on February 17th
Register for your chance to win at the Ticket Tent (Registration is Free)
Be Present in Main Room for the Drawing at 5:25
If you hear your name called, come to the front to redeem your prize
WHAT EACH WINNER WILL RECEIVE
Each winner will receive the following items at Mullen & Mullen Injury Law Firm Ticketstock on Friday, February 17th, 2023:
*One meet & greet pass, good for the winner a guest to meet Micah Parsons and have a photo taken. The photo will be taken by Ticket personnel and shared with the winner after the event
*One autographed football from Micah Parsons signed at Ticketstock. The autographed item will be provided by the Ticket.
Complete Rules Can Be Found HERE
ALTERNATE ENTRY