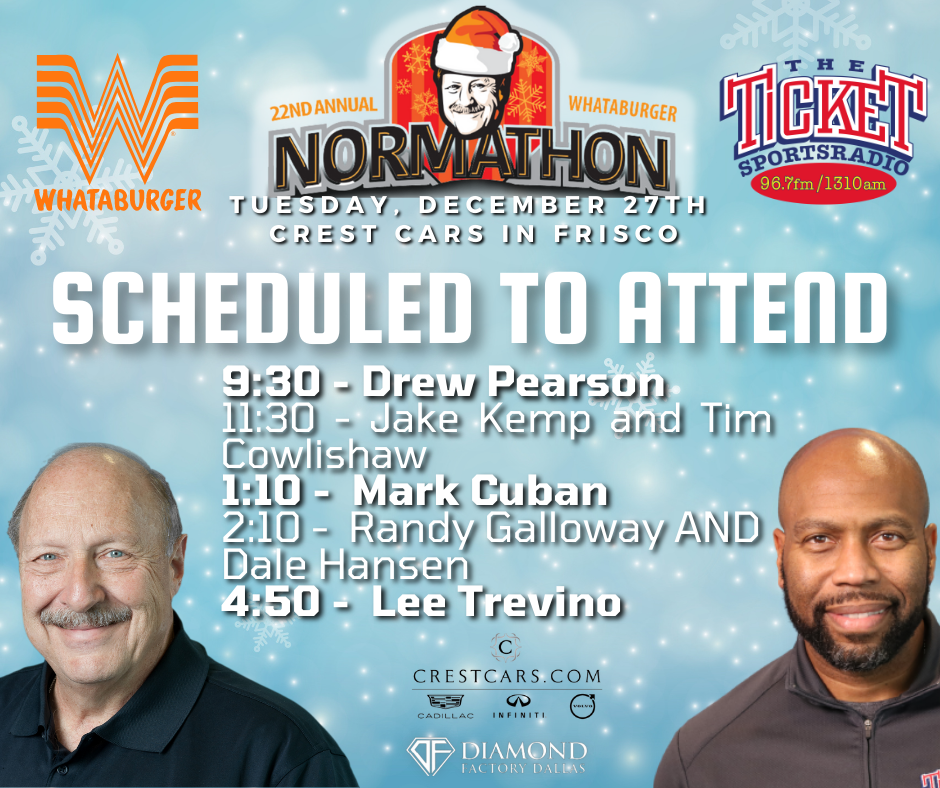 The 22nd Annual Whataburger Normathon will be the focus of the Norm and D Invasion from November. 30 through its culmination – a full day of broadcasting, LIVE on Dec. 27th from 6am-7pm at Crest Infiniti on the Crest Luxury Car Campus in Frisco.

The month-long effort raises money for the Austin Street Center for the Homeless, which has been recognized nationally for its remarkable work combating homelessness.
The event has touched and bettered the lives of thousands of people in its 21-year existence, and it's all due to the incredible generosity and care of The Ticket listeners who've responded with ever-increasing support. Together over the last 21 years we have raised over $8 million to help Austin Street Center.
Besides the title sponsorship from Whataburger (who jumped on board from the very inception), the success has been incredibly boosted by the support and generosity of our friends at Crest Cars.
How to be Part of Normathon:
* BID on our "Major Auction" items you will find below.
* NORMATHON DAY – Tuesday, December 27th – there will be AWESOME items up for bid. A complete list of items and bidding information will be posted soon! We will also accept donations (monetary and clothing) at Crest on the day of the 27th
* DONATE – Text AUSTINSTREET to 56651 and you can donate any amount you see fit, directly to Austin Street Center for the Homeless OR use the form below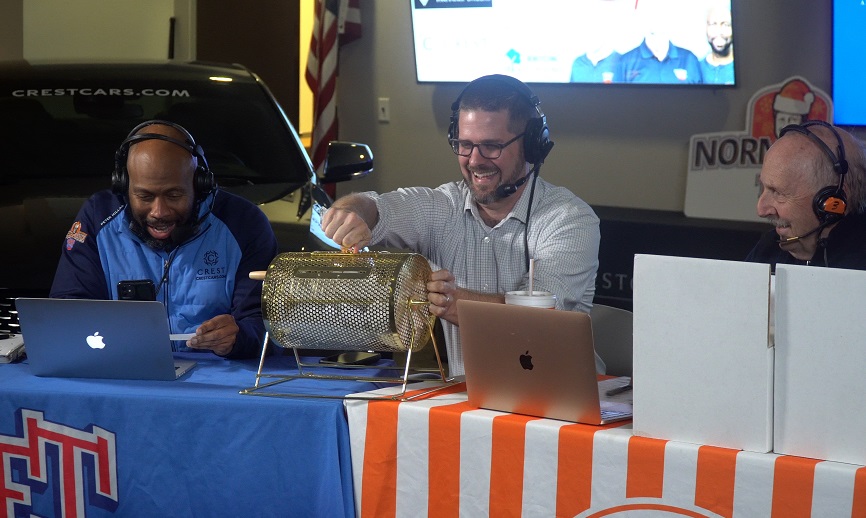 ---
MAJOR AUCTION ITEMS (Dec 27th)
On Normathon Day – Tuesday, December 27th – fabulous auction items will be offered for bids from 6am until 7pm. Simply click the link below to make a bid, or text AUSTINSTREET to 56651 to have the link send right to your device.
CLICK HERE TO BID: https://austinstreet.muradbid.com
Item #1 | Lone Star Park Suite for 20 PLUS Norm Handicap
Once again Lone Star Park has generously donated a suite for your group of 20 for either a day or night of thoroughbred or quarter horse racing during the 2023 Lone Star season.
Your private suite for 20 includes:
-Parking passes and programs
-A suite-level buffet
-An open bar with house beer, wine, and call spirits (and service charges for you and your guests).
In addition, Norm Hitzges will be in your suite 40 minutes before the first race to conduct a racing seminar on that day's racing. The total value of this package is more than $3,000!
Item #2 | Fishing Trip for 2 to Brazil
What's the biggest fish you've ever caught? Ron Speed Jr's Adventures creates incredible fishing experiences around the globe and here's your chance to go on the trip of a lifetime!
I know, I've gone on this journey to the Amazon region with Ron Speed Jr's THREE times! Ron Speed Jr's Adventures has donated a week-long trip for two to fish for huge and gorgeous peacock bass in Brazil's Amazon region.
The high bidder must arrange his or her airfare to Manaus, Brazil. But once your plane touches down you are taken care of by this first-class operation. You'll be met at the international airport and transferred to the local airport for your flight deep into the Amazon backcountry.
For the next six days, you'll live in your air-conditioned cabin on the beautiful Otter houseboat. All food and alcohol are provided. You'll work your way down the Rio Negro River (absolutely NO MOSQUITOS!) fishing inlets and hidden ponds before arriving back at Manaus. Rods will be provided but you must bring your own reels.
You'll experience the remarkable Amazon wilderness looking to hook spectacular peacock bass that reach up to 28 pounds. This adventure is good from September 2023 through February of 2024 depending on availability and is valued at $10,000!
Item #3 | Two One-of-a-Kind, SIGNED Photos of Nolan Ryan and Tom Landry
For over 40 years, David Woo was a photographer for the Dallas Morning News, getting access to the most restricted people and places. During this time, David was able to capture some incredible images of Nolan Ryan as he recorded is 5,000th career strikeout AND the photo Tom Landry used for the cover of his book.
And the best part about these incredible photos from the collection of David Woo? They are signed by Nolan Ryan AND Tom Landry.
These are photos you will want as part of your collection as the perfect placement in your office or man cave.
Item #4 | Sirenian Bay Resort Package
Pack your bags and get ready for the most incredible stay at Sirenian Bay in Belize.
Get your friends together and get ready for Four Nights for up to 4 people in a 2-bedroom beach bungalow for an all inclusive** experience at Sirenian Bay. This package includes unlimited food and drink options (beer, wine, well drinks, non-alcoholic drinks).
This vacation will be like a dream with ground transfer from the airport (BZE or PLJ), Snorkel excursion to Silk & Moho Cayes and a dinner on the beach for FOUR people.
But that isn't all.
You'll have complimenatary Wi-Fi, use of kayaks, paddle boards, and bycicles. You'll have access to a large open beach area with beach games and toy, resort pool and hot tub, fitness center and more.
Excludes: Airfare to Belize, Gratutity, Steak & Lobster (seasonal) available for a small upcharge based on Market Rates
Item #5 | Pat Green Home Concert
Picture this!!! Country and western star Pat Green sitting in your home giving a personal concert. High bidder gets to invite up to 20 friends because with a crowd that size Pat won't even need a microphone.
He'll simply set up in your living room or back patio and sing hits from his seven albums like Texas On My Mind, Drinkin' Days, Girls From Texas, and Wave on Wave.
But wait, there's more! Desperado's will cater to your crowd of 20! They'll bring nachos, chicken flautas, fajitas, Desperado's shrimp, dessert, and even margaritas!
Desperado's is family-owned and operated for 44 years and proud caterers for the Cowboys, Mavs, Stars, Rangers, SMU, The Ticket, and Super Bowl 45.
Get the party started with a Pat Green personal concert in your home AND Desperado's catering!
Item #6 | Your Own Home Theater from Starpower
Turn your home into a first-class entertainment center by being the high bidder for the remarkable package from Starpower. This prize includes:
—An Epson 4K projector
—106-inch projector screen
— Klipsch 6.5 inch in-ceiling speaker system
—Klipsch Reference Series Subwoofer
—A Denon 7.2 Atmos A/V Receiver
—Two beautiful 100% Starpower leather chairs.
The total retail cost of the system is just over $11,000! But the high bidder today is very likely to get an incredible bargain and help Austin Street Center for the Homeless.
Basic installation of the system is included
Item #7 | Have you ever wanted your own racehorse?
With this amazing package you'll be able to name a racehorse who turns two years old on January 1st and will be in training to race this season.

Imagine, not just watching the horses rushing down the stretch, but cheering on YOUR horse. It is an incredible feeling you can have time and time again with this Normathon major auction item.

But it gets even better. Listen to this.

The winner also gets 10% of the net earnings of the horse for his racing career. And this horse is bred to win. Its sire, Sky Mesa was a stakes winner in his racing career, and his mother won $310,000 during her racing career.

This is an opportunity too good to pass up. Don't miss out on this once in a lifetime opportunity.
ITEM #8 The Hawaiian Vacation You Have Always Dreamed Of!
Maybe you have been to Hawaii before and want to go back, or you want to cross this tropical paradise off your bucket list – whatever the reason, this Normathon auction item is for YOU.
Airfare for two is covered, taking you into Maui. From there, you'll head to the Ritz Carlton Kapalua, where you'll stay for Five days and Four nights.
At The Ritz-Carlton Maui, Kapalua, humans are restored to the wild. With 54 acres overlooking the Pacific Ocean, there's a wild for everyone. Whether it's basking in the sun, savoring a rainbow, or watching whales, there is only one element missing: you.
---
Thanks to our Sponsors: