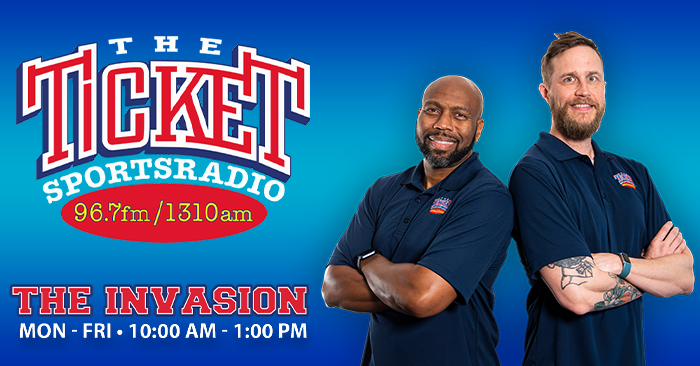 Known to Ticket P1s as "The Great Donovan," or "Donnie-Doo", Donovan Lewis co hosts 10am-12n., formerly hosting with Radio Hall of Famer Norm Hitzges. Donovan and Norm had been paired on the Cowboys Postgame Show since 2007 so the teaming of the two for a regular weekday show is a no brainer. It just took us a little while to realize it.
Prior to teaming up with Norm, Donovan rode shotgun on BaD Radio from 2006 to 2015 after joining "The Ticket" from sister station KDBN "93.3 The Bone", where he was known as "The Bone Brotha."
A proud member of Alpha Phi Alpha, Donnie has several regular segments, including Ghetto Jeopardy.
Matt McClearin returned to the Ticket in the summer of 2023 to co-host The Invasion with Donovan Lewis. 
Growing up in Dallas-Fort Worth, a graduate of Rockwall High School, Matt attended Texas State University.
Upon graduating, he began working in sports radio in 2009, working at The Ticket as Dallas Stars in-studio pre-and post-game host and built a weekend show known as The Matt & Scot Show.
Then in 2013, McClearin moved his show to Birmingham, Alabama with a full-time opportunity on WJOX 94.5 before returning to Dallas-Fort Worth in 2016 on ESPN 103.3 FM. In 2018, he and Jean-Jacques Taylor were paired for a show, "Jam Session."
Despite growing success, COVID hit, and the station when away, allowing McClearin to return to The Ticket in 2020, leading to a second sting with WJOX 94.5 before returning home to The Ticket to work alongside Donovan Lewis.