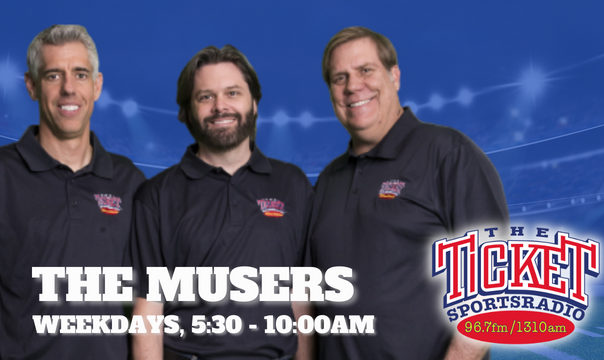 George Dunham, Craig Miller, and Gordon Keith have been entertaining listeners for more than 20 years in morning drive on the Ticket. "The Musers" are a winner of the national Marconi Award for best radio program in a major market, and have been named Best DFW Radio Show by the Dallas Morning News, Dallas Observer, and the American Women in Radio/Television. They are the longest-running morning show (with the same crew) in Dallas-Ft Worth, and have been the top rated show in the market since 1995.
Thanks to annual events like the Dunham & Miller Open golf tournament (benefiting Special Olympics), Craig Miller's Swing for Hope golf tournament (benefiting Hope Supply Co.), George Dunham's "Jub Jam" (benefiting the Senior Source), and Gordon Keith's Clay Shoot (benefiting Big Brothers and Big Sisters of North Texas), the Musers have raised over $1 million dollars for charity.
Whether it's serious football talk with Troy Aikman, off-beat visits with Fake Jerry, or making fun of station gaffes during the Emergency Brake of the Week, you'll enjoy starting your day with the Musers, each morning from 5:30-10:00 on America¹s Favorite Radio Station, the Ticket.