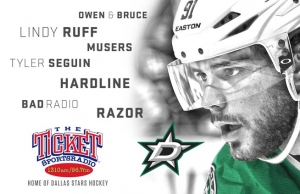 Your home for Dallas Stars hockey is Sportsradio 1310 and 96 7 FM The Ticket! Hear every game on America's favorite station.  Dave Strader and Razor Reaugh have the call.

Owen Newkirk and Bruce Levine host Dallas Stars Pregame, Intermission and Postgame Shows for every game

The Tyler Seguin Show with BaD Radio


Dallas Stars Center Tyler Seguin skates into the crease with BaD Radio every Wednesday at 1:15pm
Daryl "Razor" Reaugh with The Musers


The Musers talk Dallas Stars stick and puck with Daryl "Razor" Reaugh every Friday morning at 8:55am. Now in the 21st season!